About Us
El Passo Grill is a Pizza takeaway in Nottingham. Why don't you try our Dip or Garlic Bread with Cheese?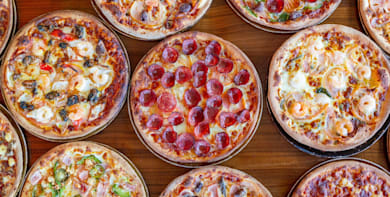 Reviews
173 reviews
Ahmed
"Very tasty food and very kind delivery driver"
16/05/2020
Jessica
"Arrived slightly later than expected but really good value for money. Would definitely order again!"
16/05/2020
lauren
"Lovely food lamb shish tasted amazing, was hot and delivered on time yum"
14/05/2020
Mrs
"Fantastic lovely & warm, very tasty kebabs not greasy good portions lovely tasty pizza will definitely order again and highly recommend"
12/05/2020
Menu
Jacket Potato with Butter
£2.00
Jacket Potato with Garlic Butter
£2.00
5 Pieces Chicken Nuggets Meal
£4.00
10 Pieces Chicken Nuggets Meal
£4.50
Donner Cob
With salad & sauce
£2.50
Topping Pepperoni
Pepperoni*Lamb*Salami*Spicy Sausage*Chicken*Garlic Sauce*Fresh Garlic*Anchovies*Prawns*Chicken Tikka*Onions*Pineapple*Black Olives*Sweetcorn*Green Peppers*Tuna*Chillies*Cockles*Mussels*Fresh Tomato
Topping Lamb
Pepperoni*Lamb*Salami*Spicy Sausage*Chicken*Garlic Sauce*Fresh Garlic*Anchovies*Prawns*Chicken Tikka*Onions*Pineapple*Black Olives*Sweetcorn*Green Peppers*Tuna*Chillies*Cockles*Mussels*Fresh Tomato
Topping Salami
Pepperoni*Lamb*Salami*Spicy Sausage*Chicken*Garlic Sauce*Fresh Garlic*Anchovies*Prawns*Chicken Tikka*Onions*Pineapple*Black Olives*Sweetcorn*Green Peppers*Tuna*Chillies*Cockles*Mussels*Fresh Tomato
Topping Spicy Sausage
Pepperoni*Lamb*Salami*Spicy Sausage*Chicken*Garlic Sauce*Fresh Garlic*Anchovies*Prawns*Chicken Tikka*Onions*Pineapple*Black Olives*Sweetcorn*Green Peppers*Tuna*Chillies*Cockles*Mussels*Fresh Tomato
Topping Chicken
Pepperoni*Lamb*Salami*Spicy Sausage*Chicken*Garlic Sauce*Fresh Garlic*Anchovies*Prawns*Chicken Tikka*Onions*Pineapple*Black Olives*Sweetcorn*Green Peppers*Tuna*Chillies*Cockles*Mussels*Fresh Tomato
Topping Garlic Sauce
Pepperoni*Lamb*Salami*Spicy Sausage*Chicken*Garlic Sauce*Fresh Garlic*Anchovies*Prawns*Chicken Tikka*Onions*Pineapple*Black Olives*Sweetcorn*Green Peppers*Tuna*Chillies*Cockles*Mussels*Fresh Tomato
Topping Fresh Garlic
Pepperoni*Lamb*Salami*Spicy Sausage*Chicken*Garlic Sauce*Fresh Garlic*Anchovies*Prawns*Chicken Tikka*Onions*Pineapple*Black Olives*Sweetcorn*Green Peppers*Tuna*Chillies*Cockles*Mussels*Fresh Tomato
Topping Anchovies
Pepperoni*Lamb*Salami*Spicy Sausage*Chicken*Garlic Sauce*Fresh Garlic*Anchovies*Prawns*Chicken Tikka*Onions*Pineapple*Black Olives*Sweetcorn*Green Peppers*Tuna*Chillies*Cockles*Mussels*Fresh Tomato
Topping Prawns
Pepperoni*Lamb*Salami*Spicy Sausage*Chicken*Garlic Sauce*Fresh Garlic*Anchovies*Prawns*Chicken Tikka*Onions*Pineapple*Black Olives*Sweetcorn*Green Peppers*Tuna*Chillies*Cockles*Mussels*Fresh Tomato
Topping Chicken Tikka
Pepperoni*Lamb*Salami*Spicy Sausage*Chicken*Garlic Sauce*Fresh Garlic*Anchovies*Prawns*Chicken Tikka*Onions*Pineapple*Black Olives*Sweetcorn*Green Peppers*Tuna*Chillies*Cockles*Mussels*Fresh Tomato
Topping Onions
Pepperoni*Lamb*Salami*Spicy Sausage*Chicken*Garlic Sauce*Fresh Garlic*Anchovies*Prawns*Chicken Tikka*Onions*Pineapple*Black Olives*Sweetcorn*Green Peppers*Tuna*Chillies*Cockles*Mussels*Fresh Tomato
Topping Pineapple
Pepperoni*Lamb*Salami*Spicy Sausage*Chicken*Garlic Sauce*Fresh Garlic*Anchovies*Prawns*Chicken Tikka*Onions*Pineapple*Black Olives*Sweetcorn*Green Peppers*Tuna*Chillies*Cockles*Mussels*Fresh Tomato
Topping Black Olives
Pepperoni*Lamb*Salami*Spicy Sausage*Chicken*Garlic Sauce*Fresh Garlic*Anchovies*Prawns*Chicken Tikka*Onions*Pineapple*Black Olives*Sweetcorn*Green Peppers*Tuna*Chillies*Cockles*Mussels*Fresh Tomato
Topping Sweetcorn
Pepperoni*Lamb*Salami*Spicy Sausage*Chicken*Garlic Sauce*Fresh Garlic*Anchovies*Prawns*Chicken Tikka*Onions*Pineapple*Black Olives*Sweetcorn*Green Peppers*Tuna*Chillies*Cockles*Mussels*Fresh Tomato
Topping Green Peppers
Pepperoni*Lamb*Salami*Spicy Sausage*Chicken*Garlic Sauce*Fresh Garlic*Anchovies*Prawns*Chicken Tikka*Onions*Pineapple*Black Olives*Sweetcorn*Green Peppers*Tuna*Chillies*Cockles*Mussels*Fresh Tomato
Topping Tuna
Pepperoni*Lamb*Salami*Spicy Sausage*Chicken*Garlic Sauce*Fresh Garlic*Anchovies*Prawns*Chicken Tikka*Onions*Pineapple*Black Olives*Sweetcorn*Green Peppers*Tuna*Chillies*Cockles*Mussels*Fresh Tomato
Topping Chillies
Pepperoni*Lamb*Salami*Spicy Sausage*Chicken*Garlic Sauce*Fresh Garlic*Anchovies*Prawns*Chicken Tikka*Onions*Pineapple*Black Olives*Sweetcorn*Green Peppers*Tuna*Chillies*Cockles*Mussels*Fresh Tomato
Topping Cockles
Pepperoni*Lamb*Salami*Spicy Sausage*Chicken*Garlic Sauce*Fresh Garlic*Anchovies*Prawns*Chicken Tikka*Onions*Pineapple*Black Olives*Sweetcorn*Green Peppers*Tuna*Chillies*Cockles*Mussels*Fresh Tomato
Topping Mussels
Pepperoni*Lamb*Salami*Spicy Sausage*Chicken*Garlic Sauce*Fresh Garlic*Anchovies*Prawns*Chicken Tikka*Onions*Pineapple*Black Olives*Sweetcorn*Green Peppers*Tuna*Chillies*Cockles*Mussels*Fresh Tomato
Topping Fresh Tomato
Pepperoni*Lamb*Salami*Spicy Sausage*Chicken*Garlic Sauce*Fresh Garlic*Anchovies*Prawns*Chicken Tikka*Onions*Pineapple*Black Olives*Sweetcorn*Green Peppers*Tuna*Chillies*Cockles*Mussels*Fresh Tomato
1st Pizza Topping Pepperoni
1st Pizza Topping Spicy Sausage
1st Pizza Topping Chicken
1st Pizza Topping Garlic Sauce
1st Pizza Topping Fresh Garlic
1st Pizza Topping Anchovies
1st Pizza Topping Chicken Tikka
1st Pizza Topping Pineapple
1st Pizza Topping Black Olives
1st Pizza Topping Sweetcorn
1st Pizza Topping Green Peppers
1st Pizza Topping Chillies
1st Pizza Topping Cockles
1st Pizza Topping Mussels
1st Pizza Topping Fresh Tomato
2nd Pizza Topping Pepperoni
2nd Pizza Topping Spicy Sausage
2nd Pizza Topping Chicken
2nd Pizza Topping Garlic Sauce
2nd Pizza Topping Fresh Garlic
2nd Pizza Topping Anchovies
2nd Pizza Topping Chicken Tikka
2nd Pizza Topping Pineapple
2nd Pizza Topping Black Olives
2nd Pizza Topping Sweetcorn
2nd Pizza Topping Green Peppers
2nd Pizza Topping Chillies
2nd Pizza Topping Cockles
2nd Pizza Topping Mussels
2nd Pizza Topping Fresh Tomato
Chicken Nuggets 05 Pieces
£1.60
Chicken Nuggets 10 Pieces
£2.80
Chicken Nuggets 15 Pieces
£3.60
Chicken Nuggets 20 Pieces
£4.30
Mix Grill
Tikka, shish, grilled donner & 1 seekh roll
£9.00
Donner Kebab Meat Tray Small
£3.00
Donner Kebab Meat Tray Large
£4.00
Haagen Dazs Ice Cream
Please write your chosen flavour in the comment box
£5.00
Chips, Cheese & Beans Small
£3.00
Chips, Cheese & Beans Large
£3.50
Burger Deal 1 Regular
Lamb burger meal
£4.00
Burger Deal 1 Large
Lamb burger meal
£5.00
Burger Deal 2 Regular
Cheeseburger meal
£4.00
Burger Deal 2 Large
Cheeseburger meal
£5.00
Burger Deal 3 Regular
Fish burger meal
£4.00
Burger Deal 3 Large
Fish burger meal
£5.00
Burger Deal 4 Regular
Chicken steak meal
£4.00
Burger Deal 4 Large
Chicken steak meal
£5.00
Burger Deal 5 Regular
Chicken fillet meal
£4.00
Burger Deal 5 Large
Chicken fillet meal
£5.00
Burger Deal 6 Regular
Veggie fillet meal
£4.00
Burger Deal 6 Large
Veggie fillet meal
£5.00
Lamb Burger Quarter Pounder
£2.50
Cheeseburger Quarter Pounder
£2.50
Chicken Steak Quarter Pounder
£2.50
Chicken Fillet Quarter Pounder
£2.50
Chicken Fillet With Fries
£3.50
Veggie Burger Quarter Pounder
£2.50
Fish Burger Quarter Pounder
£2.50
Meal Deal 1
Medium pizza with 3 toppings, 1 chips, garlic bread with cheese & a can of Coca-Cola
£10.00
Meal Deal 2
2 Medium pizza with 3 toppings, 2 chips, garlic bread with cheese & 1.5L bottle of Coca-Cola
£15.00
Meal Deal 3
12" Asian style pizza, 2 kebab lamb donner or chicken shawarma, 2 chips, garlic bread with cheese & bottle of Coca-Cola
£20.00
Cheese & Tomato 08" Small
£3.60
Cheese & Tomato 10" Medium
£4.60
Cheese & Tomato 12" Large
£6.00
Grill Pizza 08" Small
Cheese & tomato, chicken tikka, seekh kebab, chicken shawarma, donner meat, onion & hot chillies
£7.00
Grill Pizza 10" Medium
Cheese & tomato, chicken tikka, seekh kebab, chicken shawarma, donner meat, onion & hot chillies
£8.50
Grill Pizza 12" Large
Cheese & tomato, chicken tikka, seekh kebab, chicken shawarma, donner meat, onion & hot chillies
£10.00
El Passo Special 08" Small
Cheese & tomato, chicken, salami, lamb, sausage, mushrooms, green pepper & sweetcorn
£6.00
El Passo Special 10" Medium
Cheese & tomato, chicken, salami, lamb, sausage, mushrooms, green pepper & sweetcorn
£7.50
El Passo Special 12" Large
Cheese & tomato, chicken, salami, lamb, sausage, mushrooms, green pepper & sweetcorn
£9.00
Asian Style 08" Small
Cheese & tomato, lamb, chicken tikka, sweetcorn, onion, mushroom & green chilli
£5.60
Asian Style 10" Medium
Cheese & tomato, lamb, chicken tikka, sweetcorn, onion, mushroom & green chilli
£7.00
Asian Style 12" Large
Cheese & tomato, lamb, chicken tikka, sweetcorn, onion, mushroom & green chilli
£9.00
El Passo Supreme 08" Small
Cheese & tomato, lamb, chicken tikka, chilli & onion
£5.60
El Passo Supreme 10" Medium
Cheese & tomato, lamb, chicken tikka, chilli & onion
£7.00
El Passo Supreme 12" Large
Cheese & tomato, lamb, chicken tikka, chilli & onion
£9.00
Meat Feast 08" Small
Cheese & tomato, pepperoni, salami, sausage & chicken
£5.60
Meat Feast 10" Medium
Cheese & tomato, pepperoni, salami, sausage & chicken
£7.00
Meat Feast 12" Large
Cheese & tomato, pepperoni, salami, sausage & chicken
£9.00
Donner Pizza 08" Small
Cheese & tomato, donner, onions & chilli
£5.60
Donner Pizza 10" Medium
Cheese & tomato, donner, onions & chilli
£7.00
Donner Pizza 12" Large
Cheese & tomato, donner, onions & chilli
£9.00
Veggie Supreme 08" Small
Cheese & tomato, sweetcorn, onion, green pepper, black olives & mushrooms
£5.60
Veggie Supreme 10" Medium
Cheese & tomato, sweetcorn, onion, green pepper, black olives & mushrooms
£7.00
Veggie Supreme 12" Large
Cheese & tomato, sweetcorn, onion, green pepper, black olives & mushrooms
£9.00
Favourite 08" Small
Cheese & tomato, chicken, pepperoni & mushroom
£5.60
Favourite 10" Medium
Cheese & tomato, chicken, pepperoni & mushroom
£7.00
Favourite 12" Large
Cheese & tomato, chicken, pepperoni & mushroom
£9.00
Hot & Spicy 08" Small
Cheese & tomato, spicy lamb, mushroom & chilli
£5.60
Hot & Spicy 10" Medium
Cheese & tomato, spicy lamb, mushroom & chilli
£7.00
Hot & Spicy 12" Large
Cheese & tomato, spicy lamb, mushroom & chilli
£9.00
Mexican Supreme 08" Small
Cheese & tomato, Mexican chilli & green pepper
£5.60
Mexican Supreme 10" Medium
Cheese & tomato, Mexican chilli & green pepper
£7.00
Mexican Supreme 12" Large
Cheese & tomato, Mexican chilli & green pepper
£9.00
Vegetarian 08" Small
Cheese & tomato, mushroom, sweetcorn green pepper & onions
£5.60
Vegetarian 10" Medium
Cheese & tomato, mushroom, sweetcorn green pepper & onions
£7.00
Vegetarian 12" Large
Cheese & tomato, mushroom, sweetcorn green pepper & onions
£9.00
Delight Special 08" Small
Cheese & tomato, chicken tikka, mushrooms & green peppers
£5.60
Delight Special 10" Medium
Cheese & tomato, chicken tikka, mushrooms & green peppers
£7.00
Delight Special 12" Large
Cheese & tomato, chicken tikka, mushrooms & green peppers
£9.00
Tandoori 08" Small
Cheese & tomato, double chicken tikka & green pepper
£5.60
Tandoori 10" Medium
Cheese & tomato, double chicken tikka & green pepper
£7.00
Tandoori 12" Large
Cheese & tomato, double chicken tikka & green pepper
£9.00
Seafood 08" Small
Cheese & tomato, prawn, tuna & anchovies
£5.60
Seafood 10" Medium
Cheese & tomato, prawn, tuna & anchovies
£7.00
Seafood 12" Large
Cheese & tomato, prawn, tuna & anchovies
£9.00
Contact Us
Find Us
68 Lenton Boulevard, Nottingham, NG72EN
We deliver to
NG1, NG11, NG2, NG3, NG4, NG5, NG6, NG7, NG8, NG9